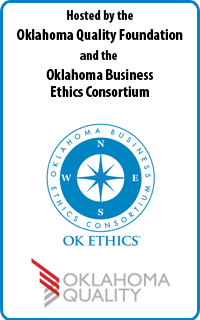 OK ETHICS COMPASS AWARDS 2013
HISTORY:
The Compass Award program was developed in 2006 by the Oklahoma Business Ethics Consortium, a statewide non-sectarian, non-profit organization consisting of nearly 800 business leaders in Oklahoma City and Tulsa. The purpose of the award is to promote the sharing of best practices in business ethics. To that end, company applications are posted online (below) so that others may access and implement ideas for promoting integrity at work.
PURPOSE & BENEFITS:
1. Promote Oklahoma values of Integrity at work. We do this by spotlighting those companies that have achieved success while staying true to the highest ethical standards. OK Ethics has used this award program inspire and encourage others.
2. The Compass Award application is designed to be a practical assessment tool for companies to use in evaluating the cohesiveness of their current processes for supporting ethical behavior. Past applicants have commented that this is the most valuable aspect of the award. For first-time candidates, this has provided a comprehensive benchmark and springboard for future endeavors. To that end, OK Ethics will provide two free consultations to participating companies.
3. Finally, award recipients openly share their information with other companies who are continually focused on promoting strong ethical practices in their organizations. "All ships rise in high tide."
AWARD ELIGIBILITY CATEGORIES:
Provided that the award criteria is sufficiently met according to the Judging Committee, an award will be given to one recipient in each category as defined by the type of organization and number of regular full-time employees on the organization's payroll at the time this application is completed.
Large: Any for-profit organization with over 500 employees.
Midsized: Any for-profit organization with 51 to 499 employees.
Small: Any for-profit entities with fewer than 50 employees.
NOTE: The regulations covering 501 entities are extremely complex. In order to prevent confusion, all organizations deemed as 501 under IRS statutes are excluded from participating as candidates for the award.
2013 AWARD APPLICATION: Click here for an award application form.
Click here to access the nomination form.
Click here to view Best Practices Workshop video

Applications due by 4:00 on Thursday, March 28
OKC Deliveries: Applications may be hand-delivered to the Oklahoma Pharmacy Board offices from 2:00 to 4:00. Please contact Edith Steele at (405) 519-2660 if you plan to deliver your application that day.
The offices are located at 4545 N Lincoln Blvd, Suite 112; Oklahoma City, OK 73105
NOTE: DO NOT MAIL TO THE PHARMACY BOARD ADDRESS.
Tulsa Deliveries: Applications may be hand-delivered to Shannon Warren at the Tulsa event held at the Doubletree Hotel from 11:30 to 1:00. Please be sure to contact her in advance if you intend to bring it to this location. Cell phone number is (405) 826-7648.
SELECTION PANEL:
Applications are evaluated using Malcolm Baldrige quality criteria by a selection team Co-chaired by Mike Strong, Executive Director of the Oklahoma Quality Award Foundation (retired) and Ms. Edith Steele, Executive Director of the Oklahoma Accountancy Board (retired). They will be assisted by certified quality examiners and executives from companies receiving the award in previous years.

CRITERIA:
OK Ethics wishes to acknowledge with gratitude the open sharing of criteria by the Malcolm Baldrige National Quality Program and, in particular, the Awards Committee Chairperson, Mike Strong of the Oklahoma Quality Award Foundation for his leadership in this initiative. If you have questions regarding the judging process, please contact Founder, Shannon Warren, at (405) 858-2233 or via e-mail at Founder.
HONORABLE MENTION TO: Hertz and CFS2

Special Community Impact Award to Dove Science Academy and SandRidge Energy/ Public Strategies for their
extraordinary efforts to promote ethics on Oklahoma campuses.

HONORABLE MENTION TO: HoganTaylor LLP; Ideal Homes of Norman and Pelco Products, Inc.

Special Community Impact Award to ONEOK, Inc. for their
extraordinary efforts to promote ethics on university campuses.


Note that supporting documentation provided by companies often include proprietary information. For that reason, this data is often not provided on this site.
2008 COMPASS AWARD RECIPIENTS

Large Company Category

Mid-Sized Company Category

Small Company Category
Note that companies are permitted to reapply for the award after three award periods have passed. This means that the 2006 recipients are eligible to reapply in 2009 and so forth.